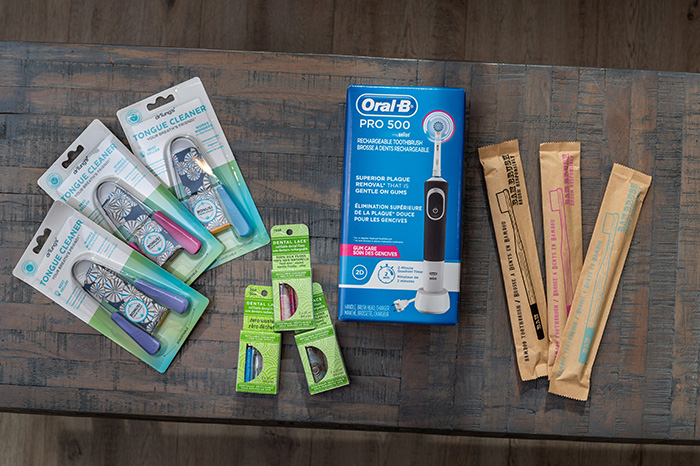 Products that help your teeth and the environment
We will be offering recyclable and biodegradable options for purchase at our clinic, including biodegradable toothbrushes and floss, and recyclable tongue scrapers.
Here are environmentally friendly alternatives we have for purchase at our clinic.
Product Prices:
BAM toothbrushes $5.00
Oral-B Electric Toothbrush $38.00
Tongue Cleaner $10.00
Silk Floss with refill $8.00
We offer these to patients at lower than retail prices.
We still offer toothbrushes and floss at regular cleaning appointments and have a recycling bin for patients to return them at their appointments for them to be properly recycled and we will give them new ones.
See Products
We recommend replacing your toothbrush every 2 to 3 months, but that means a lot of plastic toothbrushes in landfills that will take centuries to degrade.
Instead, we offer BamBrush.
BamBrush is a Canadian, subscription company producing toothbrushes made from ecologically friendly, biodegradable Moso bamboo and hygienic nylon bristles. These toothbrushes are vegan-friendly, BPA-free, and use non-toxic paints.
Dr. Tungs Stainless Steel Tongue Cleaner
Tongue cleaning is one of the best ways to remove halitosis-causing bacteria.
Dr. Tungs Stainless Steel Tongue Cleaner is the #1 selling tongue cleaner and is made of long-lasting, recyclable, stainless steel. Stainless steel repels bacteria, is gentle on the tongue, and is easy to keep clean–making it perfect for your oral care needs!
Dental Lace Refillable Dental Floss
Dental floss containers are rarely recyclable, which means they end up in landfills for years to come.
Dental Lace, on the other hand, comes in a 100% recyclable and refillable glass containers filled with 33 yards of biodegradable mulberry silk floss. When you're finished your first spool, you can easily refill it instead of throwing it away.
Oral- B Electric Toothbrushes
REMOVE 100% MORE PLAQUE
When you brush with an Oral-B, you'll see and feel the difference. For individual tooth-by-tooth cleaning and a dentist-like clean feeling every day, make a power move to Oral-B.
Location
50 Gary Martin Drive
Suite 240, Bedford, NS
B4B 0P9